The New Generation of Light Paramotors is Born!

Flying Dreams?
Experience the Freedom of Powered Paragliding!
Chances are, you have seen these remarkable flying machines flying around somewhere, and have wanted to find out what all the buzz is all about. This sport is growing by leaps and bounds, and the Miniplane is by far the lightest, easiest and most reliable paramotor available today. A recent Independent Paramotor Owners Survey from 2011 shows the highest overall satisfaction of the Miniplane. Find a Miniplane Dealer near you!
Featuring the Powerful


Alis Volat Propiis "She Flies With Her Own Wings"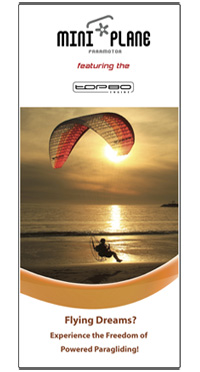 The philosophy of a reliable mini-motor, combined with optimizing the resonance of the exhaust provides the pilot:
Light weight
Less vibration
Easier to start
Less fuel; less to carry
Less weight means a lighter frame
Less weight in flight means you can use a paraglider that is smaller and easier to inflate
Less weight gives you the ability to launch easier and under control - not struggling with a heavy load
The increase in performance of modern paragliders makes it possible to fly with almost one-half the power of a few years ago.
A little two-stroke engine, built with modern technology, can offer more then enough reliable power and much less weight. This makes the critical take-off run easier and safer.
Click the image to the right to see and download our new Miniplane-USA Brochure! Or, if you are ready to experience the Miniplane Paramotor first hand, find a DEALER near you!
CROSSING OVER?
From Free Flight to Paramotoring and vice versa...
The Miniplane ABM Paramotor with the Low Hangpoint Weight Shift Harness allows the pilot to feel their glider and the air! Couple this lightweight, yet powerful motor with a modern efficient paraglider, and you have the recipe for much more airtime! Have a look at our Crossover Clinic designed specifically for those ready for more flying!