Assembly & Tips
Miniplane Pictures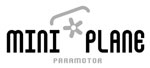 Info@Miniplane-USA.com
Please note: We sell to USA only!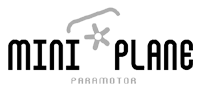 Miniplane Paramotor Assembly
Unfortunately, at this time there is no printed Miniplane Instruction Manual that comes with this paramotor. There are a few online resources below for assembling your Miniplane, and you are welcome to give us a call if there are any questions. If you are in the area, we would be happy to meet with you and help you assemble your new Miniplane Paramotor.
Included with your Miniplane is a small bottle of oil that needs to be added to the gearbox before use. Add entire contents of the bottle (30-35cc) and cap the gearbox with the included breather cap and tighten gently. The Walbro WG8 Carburetor is a 50:1 ratio OEM item off the shelf, so do not mix a different fuel:oil ratio, even during break-in.
The Articles and Tips to the left have been found to be helpful to keep your Miniplane Paramotor running in Top condition. Please send us any suggestions you may have to add to this resource at info@Miniplane-USA.com
Happy Flying!
Online Resources: