Miniplane Accessories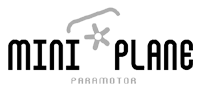 Some Favorites:
Front Reserve
The super light Miniplane Front Reserve is the perfect addition to the Miniplane Paramotor.
Simply clip the attachment bridle to your carabiners, and you're ready to go.
Includes a removable rigid instrument board. Two sizes are available, see the specs below.
SALE - Price reduced!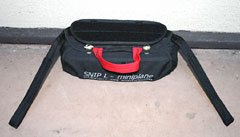 | | | | | |
| --- | --- | --- | --- | --- |
| Size: | Max Wt: | Weight: | Price: | Order: |
| 24m | 110 kg. | 1530 gr. | $695 | |
| 30m | 130 kg. | 1850 gr. | $765 | |
Also available:
SupAir Xtralite Front-Mount Reserves
APCO Mayday PPG Reserves
PPG Tandem Bar
Our Miniplane-USA Stainless Steel Paramotor Tandem Bar is the best way to do effortless tandems!
Made of sturdy Stainless Steel with double sewn Nylon straps, this tandem bar will withstand years of rigorous use.
Price: $495.00
Pop-Up Speed Bar
NEW! 'Pop-Up' Speed Bar
Easily accessible, durable, and light weight, this rigid speed bar stands out away from the harness for easy no-hands access.
Just drop your heel in the loop and push, then place both feet onto the bar.
Comes complete with speed lines and brummel hooks to attach to most gliders riser systems.
Price: $35.00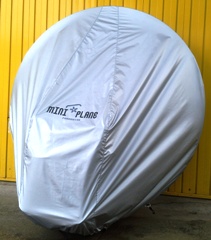 Lightweight Cover
Dust, sun and rain can damage all the components of your Miniplane Paramotor! Plastics, belts and propeller can become fragile from exposure to the sunlight.
Protect your Miniplane from sun and rain with this lightweight cover! Weight: 400gr.
Price: $75.00
Transport Box
The Transport Box is made to carry your Miniplane Paramotor during shipping or transport. It can also carry the pilot's helmet, boots, flight suit and instruments.
Made from solid plasitc (polyethelene), this reusable Transport Box will last for years.
A rubber ring around the the cover protects your motor from dust and humidity.
Dimensions:
Length: 100cm
Height: 48cm
Width: 50cm
Price: $325.00 NOT Stocked (4-8 weeks)
Transport Bag with Wheels
semi-rigid bag in tear resistant fabric with cover and zip on 3 sides
rigid bottom
sided with hard removable inserts
2 handles
2 wheels 40mm
Dimensions: 90x54x42 cm
Weight: 6.3 Kg
Price: $395.00 NOT Stocked (4-8 weeks)